Fitness Professionals, regardless of your experience level, quickly and accurately complete body composition measurements, using BodyEvolvers exclusive BodyCheck page.
Using BodyEvolver's step-by-step guide, you'll quickly enter accurate body composition measurements.
This is the Male BodyCheck page, there are 14 measurement sites and a field to record "Weight" and "Date Measured".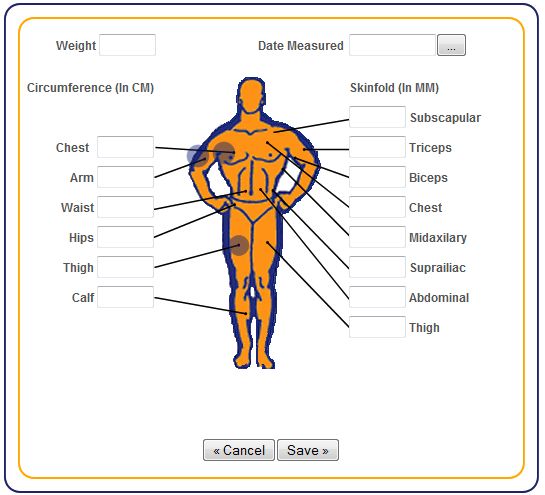 This is the Female BodyCheck page, there are 12 measurement sites and a field to record "Weight" and "Date Measured".




Circumference and Skinfold measurements are taken to calculate a client's true body fat percentage. As you hover your mouse over each field on the form, and it will show you exactly where and how to take that measurement, ensuring that follow-up measurements are taken consistently.

Here are a few examples:


Skinfold tests, as opposed to bio-electrical impedance analysis, are more useful in discovering where a person holds the most fat and can even provide biomarkers to better program these clients for exercise.

Our "BodyCheck Report" details an in-depth body composition analysis, provides a benchmark to now evaluate the quantitative progress of your clients.


This impactful report helps educate clients and give them a clear perspective on their current state of health and where they need to be.
BodyEvolver recommends using the Gulick Measuring tape and Lange Skinfold Calipers.



Turn learn more click on STEP 2: TRACK >